To help us invest in our sustainable plans, please donate here.
Plan Moo
Plan Moo involves investing in milking cows ($1,000 per cow), which are cared for and maintained by families in the school. The income generated by milk is shared between the family and the school's running costs. Over time, each cow will produce calves and the income is multiplied. The family will own the first cow after two subsequent births with all the income from that cow remaining in the family.
Plan Pollo
Investing in egg-laying chickens on a larger scale, from 100 upwards. A large area needs to be constructed with the chicken coups and outside area for feeding and walking around. Fencing is needed for security against predators and thieves. The income from the sales of eggs is divided between the workers and the school.
Plan Employment
The Phoenix Projects provide local regular employment for over 60 people. Sustainable employment is critical and we aim to begin trials in the next three years, by providing seed capital to our graduating students for them to invest in their own business ideas, similar to micro-loans though with the money being paid back into the running costs of the schools and also a fund to provide further seed capital in the future. An issue facing marginalised communities is employment opportunity, of which there is very little. By providing seed capital and advice for them to set up their own businesses, employment will be generated and income will come back into the school in the form of a small % each month.
Plan Ironwoman
Plan Iron Woman or Plan Hierro – a new project with an initial investment of $3,000 was launched in Ecuador in 2012 with the aim to provide pregnant mothers with the essential nutrients, including iron, for the healthy development of their children by creating iron-rich vegetable gardens. Produce generated from the Plan can also be used in school meals. It is currently being trialled in Ecuador and Guatemala.
Plan Arveja China (Green Beans)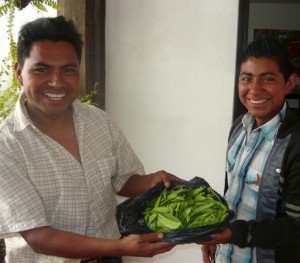 Plan Arveja China (green beans) is being trialled at the moment in Guatemala, by initially investing $1,500 in the materials and workers salaries needed for a crop of green beans. Sales of the harvest are then divided up with a % going into the next crop costs and salaries and a % to the school running costs. It is hoped we will have 3-4 harvests per year to negate any affects of a lost harvest.
Plan Nixtamal
Plan Nixtamal invests in a machine that grinds basic maiz into the dough needed to make tortillas. Income is derived from charging a small fee (from 10 cents) for the use of the machine, which is divided between the workers and the school.