To help us invest in our sustainable plans, please donate here.
Plan Cuy – (guinea pigs)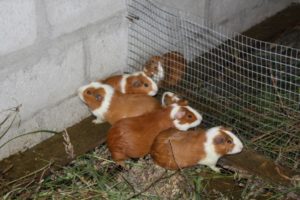 Plan Cuy was introduced in 2011 in Ecuador and involves the rearing and selling of guinea pigs to help cover secondary education costs. We will be trialling this in Perú in 2017 with the local families. A cuy house has to be built first to protect the guinea pigs from the elements, with separate sections during mating. The offspring are then reared and sold to local restaurants, with the earnings shared between the family and covering school costs, including daily food and fruit and teacher salaries.
Plan Chacra
Plan Chacra (various vegetable crops) will be trialled in Perú. Chacras are the plots of land that surround the communities where we work. Initial investments of $2,000 will be made in the materials, rent of the chakra and workers salaries needed for each crop, generally lettuce, potatoes and carrots. Sales of the harvest are then divided up with a % going into the next crop costs and salaries and a % to the school running costs. It is hoped we will have several harvests per year to negate any affects of a lost harvest.