Click on the blue country link to see the news in detail.
Guatemala – The school year in Itzapa drew to a close with final exams – amazing results all round with all the students in 6th grade graduating to secondary school; Day of the Child was celebrated on 1st; the school band impresses in Pastores and the Annual Volcano Charity Challenge is completed. 
Honduras – normal school; Plan Café coming along well and nearing harvest; great advances in Phomolo's grade 1; the girls prove they are good competition in football; getting ready for final exams before school ends mid-November.

Nicaragua – normal school; Día de la Raza was celebrated with costumes and traditional food; Kinder continues to advance well with numbers, letters and vowels. The school acted as a shelter as heavy rains caused the nearby river to rise.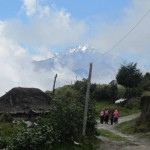 Ecuador – normal school; Yamor Celebrations (Traditional Otavaleñan Festival of corn); Otavalo Day on 31st. Classes continue well with all our new local teachers settling in with their teaching. Plan Papa receives some much needed rain and Plan Moo continues to cover the majority of secondary school costs.

Perú – normal school; 2nd grade preparing for November´s national exams.

21st-25th – Guatemala Four volcanos challenge
Fly The Phoenix Fundraising events
Dan Johnson ran the Cardiff Half Marathon

Lyndsey Phelan's Annual Halloween Fundraiser in Dublin, Ireland. In 2009, Lyndsey worked in every Phoenix country and has since regularly run this fundraiser on Halloween – thanks Lyndsey!
Karin Wipfli and Sharon Hodgkins both undertook successful Plan Doll events.