Click on the blue country link to see the news in detail.
Guatemala - normal school; Independence Day parade on 15th and final exams being prepared for in Itzapa. Santa María term ended on 27th with a celebration for Day of the Child.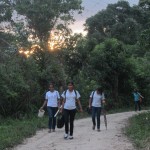 Honduras – Third set of exams; Day of the Child on 10th; Independence Day on 15th; Day of the Teacher on 17th. Some interesting facts about our secondary school and the students.

Nicaragua – normal school; Battle of San Jacinto 14th; Independence Day 15th; exams 17th-25th; heavy rains havn't reduced numbers though the school has been on standby as an emergency shelter.
Ecuador – new school year started on 2nd. School elections held. Refurbished comedor in use in Muenala. Our new local Phoenix teachers start; Patricia in Huayrapungo and Sisa in Larcacunga. Don Carlos continues in Muenala.
Perú – normal school, Day of the Student.

Charity Challenges – none

Fly The Phoenix Fundraising events

September – its back to school time! How about encouraging your school, or your children's school to fundraise for us – you could sponsor some children into primary or secondary school for the year
13th – Zoe O´Connor and Alan Heals Wedding
22nd – Gemma Holmes (Guatemala, Nicaragua, Ecuador and Perú 2012) is taking part in the Tough Mudder South West 2013 to raise funds for all the Phoenix Projects.