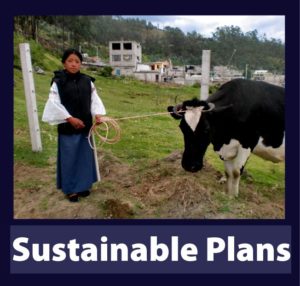 After initial investigations in 2004, in 2005 The Phoenix Projects began working in three local Kichwa-speaking (click here for some vocabulary) indigenous schools in the communities of Huayrapungo, Muenala and Urcusiqui. All above 3000m in the Andes mountain range of Ecuador, and located on the edge of the diverse Intag region at least 1 hour outside of Otavalo, The Phoenix Team were able to help with transport as well as much needed support in the classroom including daily hot food, fruit, local teachers' salaries and materials.
After ten years, in September 2014, the government closed the schools in Huayrapungo, Muenala and Larcacunga, forcing the children to travel to centralized schools. We provide the transport and daily food and fruit for the journey as well as pay for two local teachers to give reinforcement classes and homework help back in the communities.
Plan Moo (cows) and Plan Cuy (guinea pigs) are two sustainable projects which provide an income to support the children's secondary,  college and university education.
Plan Estufa – In 2011 we completed the project – all 3 communities now have energy efficient stoves to cut out the health risks associated with in-house pollution.
Plan Iron Woman or Plan Hierro aims to provide pregnant mothers with the essential nutrients, including iron, for the healthy development of their children.
Please click on this link to make a donation for Ecuador.