To help us invest in our sustainable plans, please donate here.
Plan Café
Plan Café was launched in Honduras in 2011 by planting hundreds of coffee bushes on land in San Rafael. Once the harvests begin, a % of the yield will go to cover project costs and a % to local labour costs and maintenance of the coffee plantation.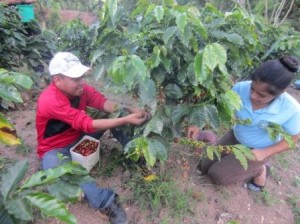 Our first harvest was undertaken in December and January, 2014, and yielded 65 gallons of raw coffee fruits/berries, which once de-pulped and cleaned, yielded 24 gallons of cleaned beans which were then sold to local buyers. The price of coffee has been very low in 2013/14 ($10 a gallon) though it was a great start to Plan Café.
Plan Arveja China (or similar crop)
Plan Arveja China (green beans) is being trialled at the moment in Guatemala, by initially investing $1,500 in the materials and workers salaries needed for a crop of green beans. Sales of the harvest are then divided up with a % going into the next crop costs and salaries and a % to the school running costs. It is hoped we will have 3-4 harvests per year to negate any affects of a lost harvest.
Plan Pollo
Each family will receive a certain quantity of chickens and the income from egg and meat sales will be shared between the families and the school costs.